Tue, 31 January 2023 at 4:37 pm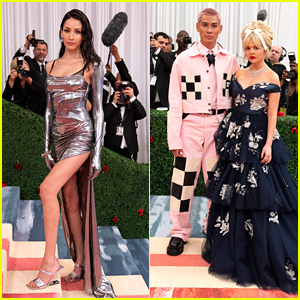 The Gossip Girl season two finale centered much of the story at the Met Gala!
While the Constance/St Jude students took to the carpet, they weren't actually at the annual event, even though it looked like it.
Showrunner Joshua Safran has revealed details on how they made it appear as if they were actually at the 2022 Met Gala, which took place in May 2022.
The theme of the exhibit was In America: An Anthology of Fashion, Part Two, with the fashion event's theme as "Gilded Glamour," where guests were asked to "embody the grandeur—and perhaps the dichotomy—of Gilded Age New York," a period that stretched from 1870 to 1890.
If you forgot, Gossip Girl stars Thomas Doherty and Evan Mock were actually in attendance at the real 2022 Met Gala!
So, how did they do it on Gossip Girl??
Keep reading to get the scoop…
Joshua actually revealed that they tried to do a Met Gala episode on the original show, but at the time, logistically, it just didn't work out.
For the finale, they considered filming at the actual Met Gala, but it made more sense to just recreate it!
"We built a replica of the stairs to size," Joshua told Vanity Fair. "It's probably the most expensive set we ever built for the show—like, by far."
In order for it to work, they weren't able to have real carpet, so set designers painted sisal to replicate the pattern on the carpet.
They even had Vogue's José Criales-Unzueta and Oscar de la Renta's Fernando Garcia make cameos to really get that true Met Gala feel, and to add bits that only people who are in the know would appreciate.
Of course, as seen here, Jordan Alexander can be seen the Oscar de la Renta crystal dress that Taylor Swift wore to the 2022 MTV VMAs. Jordan actually wore it before Taylor, as filming took place before the VMAs, which were in August.
"The minute I saw that dress, I just knew that it was such a special, one-of-a-kind [piece]—what Julien Calloway would wear to the Met," GG costume designer Eric Daman said. "No one had actually worn it yet; it is a very difficult dress to wear. It is just layers and layers of crystal—it is very heavy."
He even added that there was a whole team that was dedicated to taking the dress on and off, and it's own tent to keep it just perfect in between takes.
If you missed it, check out these six burning questions/cliffhangers from the finale that we found out the answers to!
Like Just Jared Jr. on FB