Wed, 01 February 2023 at 6:00 pm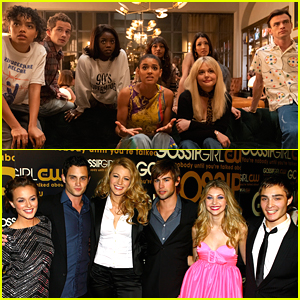 The second season finale for Gossip Girl could have had a major original GG star return!
While the HBO Max series did bring back an actor from the OG series in the series finale, they were trying to get a couple of the main, original actors.
Get the scoop inside…
Showrunner Joshua Safran has been spilling the beans on many aspects of the finale, and this is one we REALLY wish could have happened!
Joshua revealed that they did try to get Connor Paolo back as Eric and Chace Crawford as Nate Archibald, both fitting in with parts of the finale, which tie in with Matt Doyle's return as Jonathan.
"We were initially trying to bring Nate back, and we just couldn't make it work with the schedules because Chace shoots The Boys in Canada, and we shoot in New York," Joshua told TV Insider. "We also wanted to bring back Eric because you hear Jonathan talking about being married to him, but Connor was shooting a movie, and unfortunately, we only had one day that we were allowed to shoot inside the museum, and he was shooting his movie on that one day. So, unfortunately, that couldn't be either."
"It's always scheduling that makes these things so difficult," he added. "But having Andy Cohen and having Matt Doyle back as Jonathan was incredibly fun."
They also wanted to bring back Azhy Robertson from season one, who played Milo Sparks, to have scenes with his mother Georgina (Michelle Trachtenberg). Unfortunately, he was in South Africa filming the TV show Invasion and couldn't fly back, so you only hear his voice!
If there were a third season, Joshua says they would've wanted to bring back Blair (Leighton Meester), who's in Paris running Waldorf Designs, and Nate.
"We always wanted to bring back Nate and Blair. I think those were the next two doors we would've knocked on, especially because we had tried with Chace to see if we could make it work," he spilled.
"And obviously, I think having Eleanor [Margaret Colin], Dorota [Zuzanna Szadkowski], and Cyrus [Wallace Shawn] appear in the show; it would be a natural extension to have Blair come back. But it was always gonna be up to those actors' interests and their availabilities," Joshua shared. "The process we had begun was looking into Chace just because, as you saw this year, there was a lot of conversation about The Spectator and about sort of using The Spectator to help Obie's (Eli Brown) storyline."
Here are all of the original Gossip Girl actors who reprised their roles on the revival series!
Get all the details on the Gossip Girl season two finale, and more, here…
Like Just Jared Jr. on FB