Fri, 17 March 2023 at 1:00 pm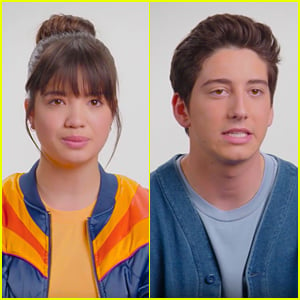 Peyton Elizabeth Lee and Milo Manheim are talking all things Prom Pact!
We have an exclusive featurette of the stars, along with more co-stars and executive producer Julie Bowen, dishing on what the movie is all about and what they hope viewers take away from watching it.
Check out the exclusive video inside…
"It sort of takes these classic high school stereotypes of the popular kids, the athletes and the cheerleaders. We show that these people are three-dimensional," Peyton shares.
Milo says, "The buggest thing I hope viewers take away from Prom Pact is you should live your life day by day."
Check out the video right here to hear from Peyton, Milo, Julie, Blake Draper, Monique Green, Margaret Cho, Jason Sakaki and Arica Himmel.
Prom Pact follows high school senior Mandy Yang (Lee) and her best friend and fellow outsider Ben (Manheim), who are surrounded by over-the-top '80s-themed Promposals. However, Mandy keeps her eyes focused on a different goal: her lifelong dream of attending Harvard.
When she finds out that she has been put on the waitlist, she is determined to do whatever she can do to get herself accepted, even if that means asking for help from the one person she abhors – popular all-star jock Graham Lansing (Draper) whose father is a powerful senator and Harvard alum.
Once Mandy becomes Graham's tutor, she begins to realize there's more to him than she thought and perhaps something more to life than Harvard.
Check out the trailer right here!
The movie will debut Thursday, March 30th at 8pm ET/PT on Disney Channel, and next day on Disney+.
Peyton and Milo will also be in season two of Doogie Kamealoha, MD, which also debuts March 31st on Disney+.
Like Just Jared Jr. on FB