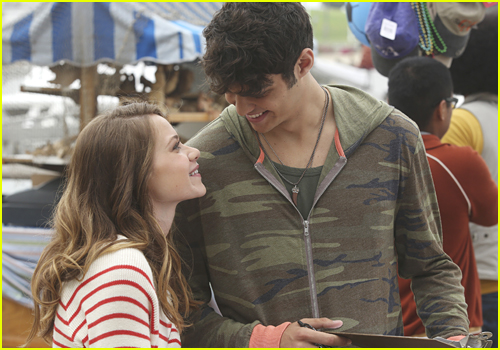 Last night's spring finale of The Fosters left us with such a cliffhanger!
Not only did we see Callie take Christina's place in a sex-trafficking ring, but Jesus just found out about Emma's abortion.
Let's talk Jesus and Emma first — Emma got an abortion, knowing it was the right thing for her and for Jesus right now. The big thing though is that she didn't tell Jesus. At all.
Executive producer Peter Paige opens up about the her decision and what happens next: "It was very important to us to do a story where a young woman gets an abortion and feels fine about it and knows it was the right choice for her."
"In the finale, it's all hitting the fan, but it's still even in Jesus' fury; he's not mad at what Emma did, he's mad that he wasn't told…I don't [think it was wrong to not tell him]. He had a meltdown because there was pepperoni on his pizza."
Peter adds, "I don't mean to make light of it – he has a traumatic brain injury, which I think Noah [Centineo] is doing such an extraordinary job of portraying. He was literally not in his right head, and it takes time."
Hopefully, we'll see how it all ends up next season.
Now, about Callie… More Here! »