Vanessa Morgan is opening up about her newborn son's name, River.
The 28-year-old actress revealed his name and birth date in an Instagram post on Thursday evening (February 4).
She then shared the meaning of why they decided to name him River.
"Early on in my pregnancy I was walking the River everyday, gave me so much peace I knew that was the perfect name for his lil soul," Vanessa shared. "Plus Michael & I really wanted a nature name."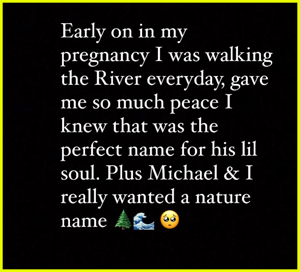 Vanessa first revealed she was expecting a baby in July 2020. Later on in the year, she revealed that her pregnancy was going to be written into Riverdale.
Now that the show starts the seven year time jump next week, we can't wait to find out how Toni Topaz became pregnant, and who the father is!
We can also expect Vanessa and her character to be gone from a few episodes this season as she is currently on maternity leave, and they have already gone back to filming more of season five.