Noah Beck shows off his shirtless body on one of the digital covers for VMAN magazine's New Rules issue!
The 19-year-old can also be seen wearing an eye makeup look, fishnets and heels. He was photographed by Damon Baker, with styling by Nicola Formichetti.
Noah also strips down to just his underwear in the photoshoot, which looks very similar to the set of photos that were released earlier this year by the same photographer.
"thank you. – @vman @vmagazine," Noah captioned a post on Instagram.
His girlfriend Dixie D'Amelio commented, "im so lucky," and "ur a f–king model."
Nikita Dragun even thanked Noah, writing, "no, thank u !!" When fans replied to her comment, she clarified why she was thanking him.
"im saying THANK U to noah for being able to break gender norms it's incredible… u read it wrong," she said.
"I feel blessed to have been able to accomplish the things that I have so far, but I'm by no means complacent," Noah shares in the magazine. "I want to push more into acting, continue to expand my platform, and grow my audience across YouTube, Instagram, TikTok, etc. I want to work in any medium in which I can continue to entertain people and make them smile."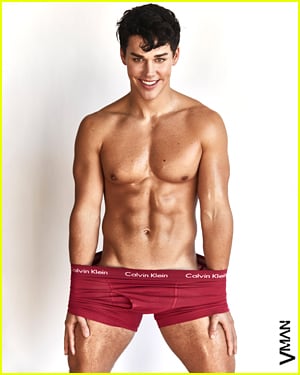 See more hot photos inside… More Here! »