Fri, 12 November 2010 at 10:30 pm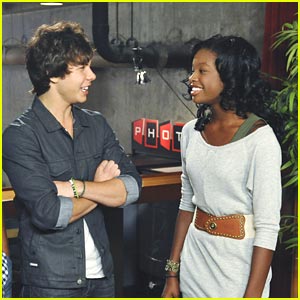 She's our last featured N.B.T. artist for this season…and after her showcase concludes on November 23…it will with the ultimate N.B.T. winner being announced on December 3 by Ernie D!
On-Air: November 10-November 23
Coco Jones chats it up with Allstar Weekend's Cameron Quiseng in this new shot from Radio Disney.
The 12-year-old singer/rapper dished to JJJ and Radio Disney about meeting the former N.B.T contestants Allstar Weekend, "At first, I didn't believe it was real and then I pinched myself for a minute and I was like 'That's Allstar Weekend! That's Allstar Weekend!'…It was really great! It was so much fun and they are soo good at bowling!"
Coco added, "I remember it all and they gave me some really good advice. They said, 'Just have fun, and practice makes perfect. Oh, and they also said that if you're not having fun don't do it, and always give 100%.' My favorite Allstar Weekend song is 'Come Down With Love.' I was just singing it earlier today while my mom was doing my hair."
You can vote for Coco by logging onto RadioDisney.com.
PSST! Ernie D will be hosting Allstar Weekend in concert on Nov 20 during the Magnificent Mile Lights Festival in Chicago. JJJ readers in Chicago will have a chance to meet the band on November 21 at Odyssey Fun World in Tinley Park (19111 S. Oak Park Ave.) from 1-4pm.
Click inside to see Coco's N.B.T. profile….
[audio:coco-jones-real-you.mp3]

Coco Jones – N.B.T.
Like Just Jared Jr. on FB