Tue, 25 January 2011 at 12:30 pm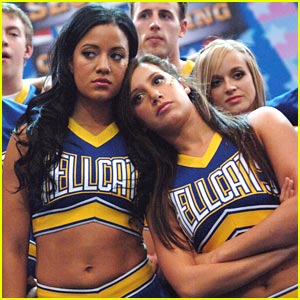 Ashley Tisdale leans her head on costars Heather Hemmens shoulder in this new still from TONIGHT's episode of Hellcats.
The 25-year-old actress had tons to share with JJJ about the second half of the season. Check it out below:
On what's happening between Savannah and Dan: "She really likes Dan. She definitely saw something there [with him]. I think it will be really hard for her to get over him so another love interest down the line, it might open up. But for now, she has her mind set on Dan. Even though this [cheating] did happen, she still has strong feelings for him. It's going to be hard to get over."
On having some say on Savannah's wardrobe: "I have a lot of input in it. From the start of the series, we were trying to establish her character and when I was auditioning for the role — she was originally of Texas at first. I thought of her as this little southern belle with lots of floral dresses. The wardrobe stylists and I got together to talk about it. A lot of the clothes I do wear are from Free People and Savannah is one of those types of people who you never see 'not ready.' She's hair and makeup ready at all times. She's more conservative than I am. I would definitely wear some of her dresses."
On how her own cheer skills have improved since the start of the show: "Knowing that I did a liberty — if they would've asked me to do that the first week, I would've said 'Heck No! I don't think so!' Now, between myself, Aly [Michalka] and Heather, we have to learn the scenes plus the routines. The pilot, we got in about two weeks and now we're down to an hour, tops. We've come a long way and it's great so see what we've accomplished."
We'll have tons more quotes from Ashley. Be sure to check her out on Lopez Tonight below!

Ashley Tisdale on Lopez Tonight – 01/25
Like Just Jared Jr. on FB