Sat, 08 October 2011 at 3:30 pm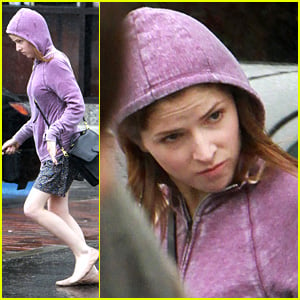 Anna Kendrick makes a quick getaway from Pavilion's grocery store on a rainy Wednesday (October 5) in West Hollywood, Calif.
The 26-year-old actress tried to shield herself from the rain in a violet Alternative Apparel hoodie.
Anna recently told MTV News that she was relieved she didn't have to kiss Joseph Gordon-Levitt in their new movie, 50/50.
"The studio wanted to see us kiss at the end, actually. We were thinking about just trying it as an option," Anna said, "Joe very wisely stood up and said, 'If we give it to them as an option, they will use it.' So we just decided not to do it, because it really just didn't feel right. And I was relieved, because I had known Joe for too long at that point. It's too weird once you think of someone as a friend to be like, 'OK, I guess we make out now?'"
Joseph however, joked, "It's a travesty. It's a horrible injustice, and I'm writing a letter."
Like Just Jared Jr. on FB