Tue, 24 December 2013 at 10:30 pm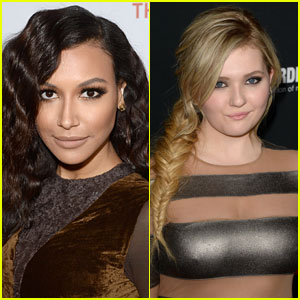 The holidays are in full swing and celebrities are now opening up about their favorite traditions!
So Parade magazine caught up with some our favorite actresses who shared their fondest holiday memories. Check it:
Abigail Breslin: "Every year my family and I go to New Jersey to visit family, and one year we saw this little hill and it had a bunch of houses on it and all the trees had lights around them. It was snowing and we were in the car listening to Christmas music and drinking hot chocolate. It literally looked like WhoVille! We go back there every Christmas Eve now."
Taissa Farmiga: "My favorite holiday memory must have been when I was about eight years old. My family was celebrating Christmas at my sister Vera's house. I think it was one of those rare moments where we were able to get everyone under one roof. And in my family, everyone is a lot of people. On Christmas Eve there was a huge snowstorm. Roads were closed and everything. We all had to find blankets and sleeping bags and camp out wherever there was room. Everyone was literally trapped in one place and the rest of the world got put on hold for just a little while longer. My younger self couldn't have been happier."
Naya Rivera: "My family has this tradition that has been going on since before I was even born and is my favorite holiday memory. Basically it's that we can't wake up to run downstairs and open presents until we hear John Lennon's 'And So This Is Christmas' play. My mom and dad would wake up super early, make coffee, set up the camcorder, and play the song. My siblings and I would run downstairs and see all the gifts while the song was blaring and it was always magical!"
Click inside to read more celebrity holiday memories…
Emma Roberts: "My sister is twelve, and we're ten years apart, so whenever I go home for Christmas, on Christmas Eve we make hot chocolate and get in bed together and stay up as late as we can and just hang out because we don't get to do that as often as we'd like since she lives in New York and I live in Los Angeles. Christmas is like our hang-out time, so we stay up really late and watch TV and eat candy and do stuff we're not supposed to do, like eat candy really late. My mom gets mad. [Laughs] That's when we have our sister bonding time. Then we usually wake up really early and wake my mom and our dad up and annoy them to open presents. It's fun because I get to feel like I'm twelve again. I love going home for Christmas because my mom hasn't seen me in a while so she'll make me hot chocolate and she'll make me food and I get very pampered. Why does it always taste better when Mom makes it?"
Olga Fonda: "New Year's Eve is actually the biggest holiday for my family. Growing up, we always had lots of family and friends over. One year, my mom, my aunts, and their female friends decided to do a holiday dress-up photo shoot. We had lots of fun going through my mother's closet and creating outfits! Lots of funny photos too!"
Andrea Bowen: "Every year on Christmas eve, my siblings and I would all sleep in the same room. Sounds relatively simple but I have five older brothers and sisters, and we lived in a very small NYC apartment. It was like Tetris trying to get us all to fit in there, but I can't help but look back on it and smile."
TELL JJJ: What are your best holiday memories?
Like Just Jared Jr. on FB