Mon, 05 October 2015 at 4:30 pm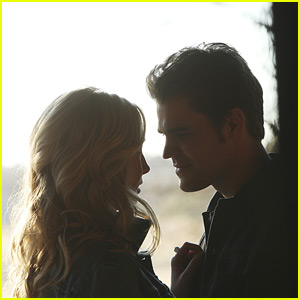 Stefan and Caroline will continue to do that "friendship dance" on the upcoming seventh season of The Vampire Diaries – and we got the scoop!
JJJ recently caught up with Candice King and Paul Wesley on set in Atlanta, where they opened up about all things Steroline.
"[Caroline's] mom died and she was emotional," Paul told us about her decision not to pursue a relationship with him right away. "She didn't want to make any irrational decisions, so I thinks she needs to process that."
"She's still mourning the death of her mother. She made it very clear to Stefan that she needed time for herself, which I loved," Candice said. "So she's still in that mode of self-discovery when we come back into season seven, but now she's just finding it harder to resist Stefan waiting around for her."
As for the "curveball" that executive producer Julie Plec recently teased, it may not be what you think.
"There are definitely some curveballs this season, both for Caroline and Stefan," Candice told JJJ. "And I'm sure there's been a lot of speculation about whether it's a curveball particular to their relationship, but Stefan's the one batting that curveball. Caroline's trying to figure out a way to support him through some…he's learning a lot with his mother being back in town. There's a lot of family history that's coming up for him and his past."
The Vampire Diaries premieres on Thursday, October 8 @ 8PM on The CW!
To find out more about someone coming back from Stefan's past, head over to
- Reporting by Sharon Tharp (@sharontharp)
Like Just Jared Jr. on FB