Fri, 04 March 2016 at 5:00 pm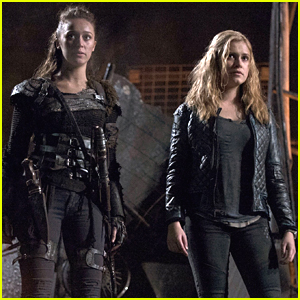 Last night, we said goodbye to Alycia Debnam-Carey on The 100 after her character, Lexa, met an early demise.
The 22-year-old actress wrote a series of tweets saying goodbye to the character, and thanked the fans for sticking with her.
"Thank you to the whole #the100 team for the beautiful and passionate collaboration of Lexa. It truly takes a team. Thank you to @JRothenbergTV for such an opportunity and for breaking the rules and pushing to envelope continually. #the100. The actors on #the100, who are beyond supportive, hardworking and blow my mind with their talent! What a lucky playground we explore. The fans. Thank you for being there with Lexa – for your love and support. You're the reason we get to play," she wrote.
Alycia added later, jokingly, "And thanks to the Academy – seeing I'm coming across a bit intense and getting super sappy all over your timeline… cue the music."
Meanwhile, Eliza Taylor, who plays Clarke, responded to a few fan questions about Alycia leaving the show.
"I'm as heartbroken as the fans. But I will say I'm glad we evoked such an emotional response. Means we did our job," she wrote, adding, "It was hardest to let myself go to the scary, feely place!! @DebnamCarey makes it all too easy, she's amazing."
Like Just Jared Jr. on FB