Sun, 19 June 2016 at 11:30 am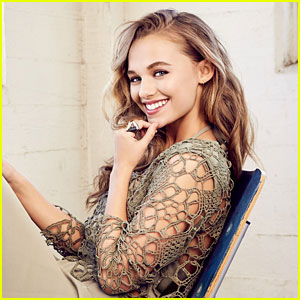 Madison Iseman is a name you're not going to forget and after watching even one episode of her new series, Still The King on CMT, you'll be obsessed with her!
Still The King centers on Vernon Brownmule, aka "Burnin' Vernon," (Billy Ray Cyrus) a scandal-ridden, washed-up, one-hit-wonder who was kicked out of country music, only to emerge 20 years later as the second best Elvis impersonator around.
After crashing into an old country church sign during a drunken bender, he is arrested and sentenced to return and serve as the church's handyman as part of his parole — where he also finds out he has a 15-year-old daughter (Iseman) he's never met.
JJJ caught up with Madison, 19, and learned 10 Fun Facts about her. Check it:
1) I love cats. The love of my life is my cat Owen. He means the world to me.
2) I am the worlds worst cook. I'm constantly trying to learn easy dishes, but somehow I can never get them right…
3) I have two tattoos! A Christian fish on my right ankle (my mom has a matching one), and an Aquarius symbol on my right hip.
4) My guilty pleasure is binge-watching Friends.
5) I wear a size 4.5 shoe, so finding cute shoes is always a struggle.
6) I love love love the gym. You can find me there everyday. My mom is an athletic instructor, so she taught me everything that I know about fitness!
7) I've slept with the same stuffed animal since I was two; his name is Lovey. Yes, I still have him…. and yes, he is a cat.
8) I am OBSESSED with dark chocolate. I.can.not.get.enough.
9) I love a good book! I'm currently reading, "The Good Luck of Right Now" by Matthew Quick
10) I'm definitely a homebody. I try to go out and adventure as much as I can, but I love the comfort of my own place. Quoting one of the greatest movies of all time, "Theres no place like home."
Still The King airs Sundays, @ 9PM ET/PT on CMT.
Like Just Jared Jr. on FB