Sun, 06 November 2016 at 3:59 pm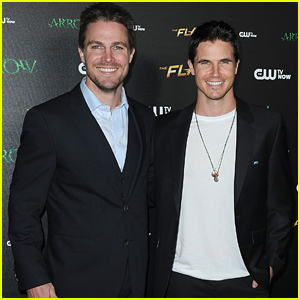 There's no denying that you can tell that Robbie and Stephen Amell are related. We mean, even if they had different last names, the resemblance is there.
So, when we saw this video of Robbie explaining that his joke about 'looking like Oliver Queen' on The Flash was shot down, we couldn't help but roll our eyes and laugh so hard.
"I improved the line…and the writers were like, 'We can't leave that in'," Robbie explains in the video below while working on some Code 8 promo with Stephen.
"Really?" Stephen replies. "Do they think they're flying too close to the sun? There's a giant shark villain and they can't make a slight allusion to us being related? Stop it."
Check out the funny video below!
Like Just Jared Jr. on FB