Mon, 09 January 2017 at 3:40 pm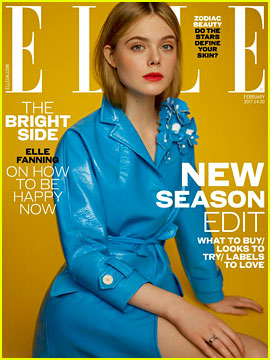 Elle Fanning is on the cover of Elle UK's February 2017 issue, which hits newsstands tomorrow, January 10!
The 18-year-old actress spoke about limiting her social media presence, her friend group, and more! Here's what she shared…
On avoiding exes on social media: "It's so hard in this era when an ex is only a text away. Back in the day they had to work up the courage to call on the phone, talk to your parents, and when you broke up you didn't see them again. But now, between Snapchat and Instagram, you can see everything – especially them with a new partner. But it's damaging so you have to stop… I have high anxiety and I'm on my phone constantly, so I find myself comparing myself to others."
On limiting her social media presence: "I recently turned my Instagram public on my 18th birthday, but I still don't post everything I do, and I'm not on Twitter or Facebook. You have to leave a little mystery. With old movie stars, all you saw were rare interviews where they only shared what they wanted to – that's what made them so interesting. You could separate the characters from the women, so if you watch them on screen you're not thinking about what they had for breakfast."
On selecting friendships: "I'm not someone that has a lot of friends. I see people who have many friends and get really jealous. I have a good core of three or four friends who are really close to me."
The February issue of ELLE UK is on sale January 10. Visit www.elleuk.com for more content!
Like Just Jared Jr. on FB