Mon, 06 March 2017 at 11:56 am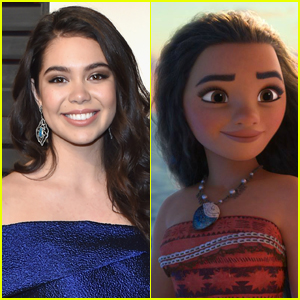 Auli'i Cravalho is dishing the deets on all things Moana!
JJJ caught up with the 16-year-old actress about making the film, the likelihood of a sequel, and what else she has in the works!
PHOTOS: Check out the latest pics of Auli'i Cravalho
In case you missed it, Auli'i recently performed the song "How Far I'll Go" at the 2017 Oscars and totally killed it!
Check out our new interview with Auli'i below.
And be sure to get Moana on Blu-ray starting Tuesday, March 7!
JJJ: Moana is a new "princess" who is breaking barriers. What was your favorite thing about her personally?
Auli'i: I loved that she was so devoted to her family and that she was so deeply connected to her culture as well. Oh my gosh, she is so brave. She has such an adventurous spirit.
JJJ: You and Moana do share a similar background in your Polynesian roots. Can you tell us how you connected with her?
Auli'i: I go to an all-Hawaiian school, Kamehameha Schools Kap?lama Campus, and there we learn the folklore of Maui, as well as how our ancestors navigated the seas using the stars. I connect to Moana the character as well as Moana the film because they?re real. To me, it feels so good to be on the water and connect to the ocean, too.

Casting Moana BTS Look
Click inside to read the rest of our interview with Auli'i Cravalho…
JJJ: Did they alter the character's look at all to match you a little bit more? If so, what parts?
Auli'i: No, Moana's look was actually fully designed before I stepped foot on the project. However they did add my facial expressions and mannerisms to her to make her more realistic and lifelike. So, my really big smile, bits of my laugh, and how I interact with my hair are all in there.
JJJ: What was your favorite thing to wear into the recording studio?
Auli'i: I never wore shoes in the recording studio, ever. Like literally, never. So I suppose my favorite thing to wear was actually something I didn't have to wear – shoes!
JJJ: Describe the scene that was hardest to voice in terms of nailing it?
Auli'i: Hmmm… it was never really about nailing a scene. There are so many different ways to say a particular line. Mixing it with sadness, or with a little more of a lilt to end of a phrase, everything changes how it will be perceived. So I wasn't really nailing it, I guess. The hardest scene was anything with Gramma Tala in it because it needed to be heartfelt. The scene where Moana leaves Gramma Tala was particularly challenging because I didn't really want to imagine leaving any one of my family members.
JJJ: What scene did you have to do the most takes?
Auli'i: Moana is a very strong character and has a lot of physical scenes that require effort noises. I recorded a whole bunch of those. Everything from screaming, to running, to even more screaming because Moana is falling, running into rock walls, belly flopping, getting thrown off canoes… you get the gist.
JJJ: How did you keep your voice healthy?
Auli'i: Throat Coat tea becomes your best friend when you're recording. Thankfully it tastes good because you drink A LOT of it.
JJJ: What was it like doing a movie with The Rock?
Auli'i: It was really fun! He's such a larger than life person, and he's larger than life in our film as well. Dwayne's a bit of a trickster, he's funny, has a great singing voice, and also deep down he's kind of a big softy. I loved working with him.
JJJ: Did he give you any advice?
Auli'i: Yea, he did. He told me to "be myself." It was really helpful, even though it was something I had heard before. It's something that should be so natural that we don't have to be anyone else but to hear it from him it was eye opening because I realized that Dwayne is fully himself, he's not pretending to be anyone else, it's really great to learn that from him.
JJJ: The fashion in your premiere looks was a super important factor for the movie. What did it mean to you to wear fashions from Kiri Nathan?
Auli'i: It was really important. Our Polynesian designs are beautiful, and they hold such importance. The "kauna" or underlying message through print-making, and the specific weaving, it made it all the more important for me to wear it.
JJJ: You've now been all over the world with Moana and have met the other voices of her. What was your favorite part of that?
Auli'i: I got to meet Tomona, the Japanese voice of Moana who is the sweetest person ever. We got to sing HFIG together, and I realized that the message of Moana transcends and connects a large number of people from all across the world. It was beautiful to meet someone who had such a different background than me, and yet we were able to laugh and tear up a bit about a character we shared.
JJJ: Are you hoping for a sequel?
Auli'i: I feel like there is so much room and so many other adventures that Moana could go on. I?m waiting to see Moana grow even more, that would be amazing.
JJJ: Are you looking to get into acting more, or are you just focused on school for now?
Auli'i: Both! I will be continuing my passion for singing and acting, as well as completing high school and going into college.
JJJ: What advice would you give others going into voice work?
Auli'i: Take the time to connect to your character really well. Even if your character changes over time through different writing, direction, etc., know your character well enough where you can understand where they are coming from. It will help you so much in not only voicing them but also rooting for them because there?s no bigger fan of your character than yourself. No one!
Like Just Jared Jr. on FB