Wed, 17 May 2017 at 12:49 am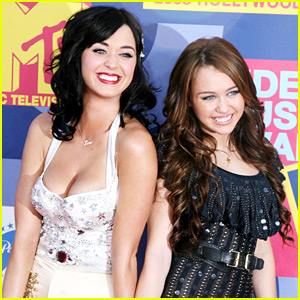 Did you know that Miley Cyrus and Katy Perry go WAY back?! They walked the red carpet together at the VMAs in 2008 and there is a whole story around their appearance.
"She's been a friend of mine for a really long time," Miley said during an interview with WKTU on Tuesday (May 16). "We were actually just realizing the other day that next year, we'll have been friends for 10 years. I think that's my friend that I've known the longest. Which is really, really weird!"
Miley met Katy for the first time back in 2008.
"When she came out with 'I Kissed a Girl,' I was doing the Hannah Montana movie, and I heard her on the radio. They said, 'Who did you write that about?' She said me!" Miley said. "I screamed and started freaking out, and then she asked me to go to the VMAs with her. That's when I started doing my whole VMA controversy. I was like, 'I'll go with Katy Perry!'"
Miley says her mom Tish wouldn't let her go alone so she came along too. "So, that's how we met and we just stayed friends," she said.
Relive their first red carpet appearance together with this photo gallery!
Like Just Jared Jr. on FB