Tue, 11 July 2017 at 3:30 pm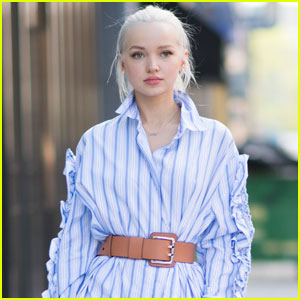 Dove Cameron is the picture of sunshine (and we love her for it), but just like the rest of us – she has moments where she struggles too.
We recently sat down with the 21-year-old Descendants 2 star and she opened up about her childhood and how she's learned to overcome anxiety.
"Here's the thing – and I've been vocal about this – I've had the craziest childhood imaginable," Dove told JJJ. "It was so dark. So because of that, the light in my life has become a medication for that. And it was like I refused to have that darkness in my life anymore. Because I knew what it was like to go to the darkest possible place. And because of that, you get really clear on what matters and what doesn't. That's been such a blessing."
"When you're not subjected to tragedy or loss or darkness it can be kind of confusing," she continued. "Because you think that a lot of little things truly matter or they can affect you more easily…and I think it's true. I think if you think something is going to affect you, I don't think anything is worse than anybody else's truth. It's just our experience and what we can compare it to."
"Every day does feel super positive to me, but it's because of that," Dove said. "And if I ever do feel down….I deal with anxiety quite a lot. But anxiety is fleeting. Anxiety is up and down. And anxiety comes and goes. So I don't ever really feel full days of that. And if I do, I keep going, like I know it's going to pass. I have examples from my life I can draw from where it has come and gone. So I power through."
We love Dove's honesty and it's sure to help a lot of fans who are going through similar experiences.
- Reporting by Sharon Tharp @sharontharp
Like Just Jared Jr. on FB