Wed, 24 January 2018 at 5:38 pm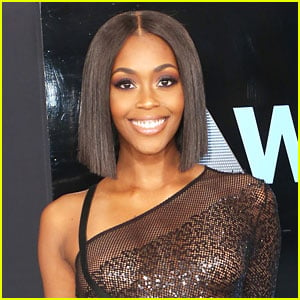 Nafessa Williams is opening up about her character on the new CW show Black Lightning.
The 28-year-old actress plays Anissa Pierce/Thunder, a black lesbian superhero, the first on television.
"She's fully out. She's been out since she was a teenager. She's 22 now. She's walking boldly and unapologetically in who she is," Nafessa told Teen Vogue. "It's amazing to watch because I've been getting on social media a lot of comments. Not even just black lesbians, just young lesbians everywhere who want to see more of themselves on TV and show what the life of a lesbian is like. You're gonna go on that journey with Anissa. It's also cool because my parents on the show, they're very accepting and open about my sexuality. I hope that parents watching are inspired to support their lesbian or gay child."
"I wouldn't say [it adds] pressure. I think more just excited to be a voice for it and be a part of the change," she continued. "Again, the producers and the writers, they've written a really well fill-out, perfectly fill-out character. It's about just telling the story authentically. I know with Mara [Brock Akil] and Salim [Akil], that I can trust them with that at the helm, that they're gonna tell this story authentically the way it needs to be told. I think that takes the pressure off of me right there, knowing that we're good."
Catch Black Lightning on Tuesdays @ 9PM ET/PT on The CW.
Like Just Jared Jr. on FB