Thu, 15 February 2018 at 7:46 pm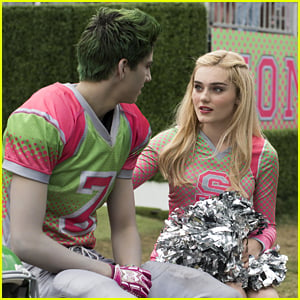 We've got one more day until Disney Channel's new DCOM, Zombies premieres and we got the exclusive scoop from star Meg Donnelly about all the amazing dance routines.
"The dances are insane and the sets are crazy. When we go to Zombieland and there's a whole dance, it's crazy. All the choreography, the music, and the stage is awesome. Visually, it's really just eye-catching and you can't stop watching. It's crazy."
"I was more nervous about the dancing because it is all professional dancers and I was a little intimidated," she says.
"The choreographer though, Christopher Scott, was just amazing and it was so much fun learning." Meg added. "It all became easy for us because he made it that way while we were learning."
For the music though, Meg was much more comfortable, since she has a musical theater background.
"It's actually insane. The songs in the movie are so good and very pop-y. They're so catchy and I think everyone is going to love them," she told us.
Combining the music and dancing together was a bit tricky, but thankfully, Meg had a cure for it all.
"For the songs, we record them all in a studio and when we're filming, they play it over this huge loud speaker and we have to sing along to it," she explained. "The lip syncing was actually difficult for me, something I didn't think was going to be as hard as it was."
"When you're dancing, you really don't lip sync to the words, so that was a challenge. You have to sing it out loud, because it doesn't match and that's what we did."
Zombies premieres TOMORROW @ 8PM ET/PT on Disney Channel!
Like Just Jared Jr. on FB