Mon, 16 April 2018 at 12:44 pm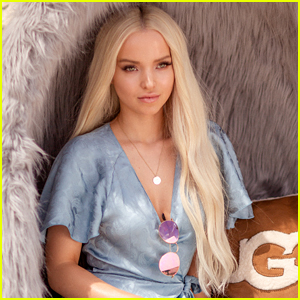 Dove Cameron is over seeing all the mean comments on social media and seeing it first hand in life, too.
In a series of tweets over the weekend while she was at Coachella, the Marvel's Agents of S.H.I.E.L.D. star addressed how being mean to anyone gets you nowhere.
"Every time you try to make someone else look bad, or 'take them down', you are not only COSMICALLY drawing negative energy to you," she wrote.
"You're also NOT doing anything to further your own happiness. ALSO; their level of happiness or unhappiness has no bearing or impact on yours. so."
Dove added moments later, "Being mean is honestly so embarrassing. It's like admitting to the world that you are overly invested in someone else's business, you're insecure & judgmental asf, and you're so unhappy with your own life that you think that others' happiness has some kind of impact on yours."
Being kind gets you so much more in life, and Dove 100% gets that.
She also pointed out how certain things that might be conceived as "bad" to some, aren't actually bad.
See all of Dove's tweets below:
every time you try to make someone else look bad, or "take them down", you are not only COSMICALLY drawing negative energy to you, you're also NOT doing anything to further your own happiness. ALSO; their level of happiness or unhappiness has no bearing or impact on yours. so.

— Dove Cameron (@DoveCameron) April 16, 2018
being mean is honestly so embarrassing. it's like admitting to the world that you are overly invested in someone else's business, you're insecure & judgmental asf, and you're so unhappy with your own life that you think that others' happiness has some kind of impact on yours.

— Dove Cameron (@DoveCameron) April 16, 2018
swearing isn't "bad", it's just sounds. words are relatively new for the human race anyway. nakedness isn't "bad", it's the divine human form. sex isn't "bad", it is the source of human life. tattoos and piercings aren't "bad", they are a celebration of the flesh. let people be

— Dove Cameron (@DoveCameron) April 16, 2018
Like Just Jared Jr. on FB