Tue, 22 May 2018 at 1:50 pm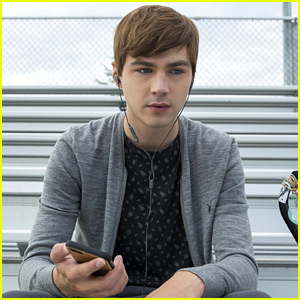 We finally know what happened with Alex at the end of the first season of 13 Reasons Why – he survived his suicide attempt.
However, it was revealed that he doesn't remember it at all. Alex, played by Miles Heizer, on the Netflix series, is recovering from a brain injury that also resulted in him losing a lot of his movement on one side of his body.
"I think that for Alex, he wants to remember so badly because he wants to feel relevant in terms of helping Hannah and Jessica, helping the trial, and so he's just trying anything he can to recover those memories," Miles shared with Cosmopolitan.
Throughout the new season, viewers also discover just why Alex attempted to take his own life – it was from the guilt he felt over Hannah Baker's death.
"It's so complex because prior to his suicide attempt, he had all of this guilt and anxiety and he really shut them out. He didn't open up to them [his parents] at all about Hannah, or about anything, so his dad didn't have all the information," Miles adds.
Alex is also getting some help from both Jessica (Alisha Boe) and in his surprising friendship with Zach (Ross Butler).
Our characters did have a friendship in the first season, but there wasn't much elaboration on how close we were or how we interacted, so it was really interesting to work so much with Miles this year," Ross told Elle.
He adds that "Zach wants to help Alex [through his recovery] because it's the right thing to do, and I think more broadly Zach is starting to feel like he needs to do what he thinks is right, and not necessarily what he thinks is going to make him popular."
13 Reasons Why is streaming now on Netflix.
Like Just Jared Jr. on FB