Thu, 05 July 2018 at 12:49 pm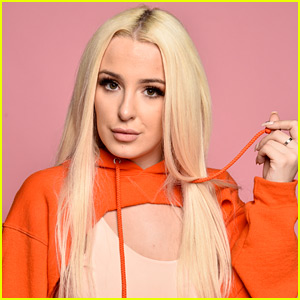 Tana Mongeau might be in even more hot water over TanaCon.
According to a new report from The Blast, one of the attendees is heading up a possible class-action lawsuit against the promoter for how convention-goers were treated during the event, which was ultimately cancelled.
If you missed it, TanaCon oversold tickets and had a venue that was too small, and so many more issues were present at the event.
With the lawsuit, hundreds of fans are considering suing Good Times, the organization that sponsored it.
"I started feeling less and less excited about the event because I had a feeling it would be very unorganized, but I hoped for the best," attendee Anamarie Olson shared. "After waiting for about five hours in the sun, with no shade or water or food, a representative of Good Times made an announcement that the event was canceled for the day but would resume as scheduled Saturday with an additional location."
The convention was completely scraped the day after and now, Anamarie is seeking "refunds on our tickets and travel, and also compensation for our mistreatment during the event" and is currently talking to law firms who helped people following the Fyre Festival disaster.
She says there are about 200 people who are interested in joining the suit.
YouTuber Shane Dawson recently debuted his "documentary" video series on all that went wrong, and revealed that Good Times CEO Michael Weist signed a contract with a ticketing agent.
This means that if anything was to go wrong with the convention and people needed refunds, his company would be responsible for the compensation. That's over $325,000 he does not have.
Like Just Jared Jr. on FB