Tue, 10 July 2018 at 2:41 pm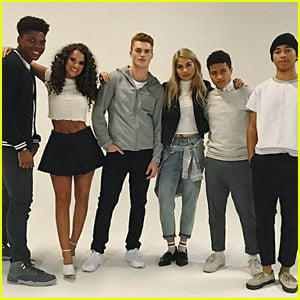 Last night, Facebook Watch debuted the next two, and final episodes of their new series, Five Points.
Starring Hayley Kiyoko, Madison Pettis, Ray Cham Jr., Spence Moore II, and Nathaniel Potvin, the digital series centered on the trials and tribulations of five teens in a South Side Chicago high school, highlighting the many aspects of teen life from love to loss, and everything in between.
The final two episodes were from Lexi (Kiyoko) and Alex's (Jake Auston Walker) point of views and delivered a shocking final scene.
"I knew it was coming and I'm still in shock," Hayley shared with her fans on Twitter afterwards.
Many fans shared their reactions about the final episodes with her, too.
"Beyond shooketh. I literally blinked the first time and missed it and rewatched like three times to make sure I didn't miss it again. Things weren't adding up for #Lexi in the earlier episodes, but they all do now. I NEED to know what happens next though," one fan wrote.
Click inside NOW to watch both episodes, and see the reactions from more fans…
HAYLEY OH MY GOD THAT ENDING SHOCKED ME i don't even know what to say im just so shocked aaah i can't wait for the next season

— amelia (@gonefullboyle) July 10, 2018
HAYLEY OH MY GOD THAT ENDING SHOCKED ME i don't even know what to say im just so shocked aaah i can't wait for the next season

— amelia (@gonefullboyle) July 10, 2018
OMGGGG IM READY FOR SEASON 2 i cannot wait any longer , i honestly didn't even think lexi did anything ! after they showed the clip of eric getting shot i thought he did it himself omg omg season 2 HURRRRYY

— honey (@brejanaaay) July 10, 2018
I could not believe what I saw. The episodes may have been short but definitely well brought out. Hope there's a season 2 soon so we can see the aftermath of everything.

— Brendon Smith (@bigdogXVI) July 10, 2018
Empathized so hard for Lexi w the way she spoke about her mom &Eric. I knew if anyone could talk him out of it it would be Lesbian Jesus. I mean Lexi. don't know how she was okay when she saw Wallace the next day. Its too traumatizing to be involved/witness it accidentally go off

— Ms. Cañada 🌈 (@popROX822) July 10, 2018
Bro I cried !! In the last scene like that got me sobbing no joke I felt it . Especially when Lexi talked about her mom . Then I cried more when I found about the scholarship. Then I also want to throw my phone when the phone went off ! 😭😭

— harmonizer 😕💓 (@yazmine_villa) July 10, 2018
I just lowkey watched it at work and almost cried several times lol…also wondered why Lexi was hiding, had a feeling it went down like that!!

— Tia (@SZIRA5) July 10, 2018
My emotions are everywhere! My jaw is still on the floor along with my heart shattered into tiny pieces. *calls in to work so I can regroup* #FivePoints

— Celina (@Celina_mia) July 10, 2018
I feel so bad for Lexi : she's my favourite character and she saved and killed a man in less than a minute. I can't even imagine what she's feeling. This was so unexpected!! I can't wait to see more of it and see how she copes with Eric's death.

— Lila Goodman (@Lilactuelle) July 10, 2018
Like Just Jared Jr. on FB