Wed, 08 August 2018 at 3:57 pm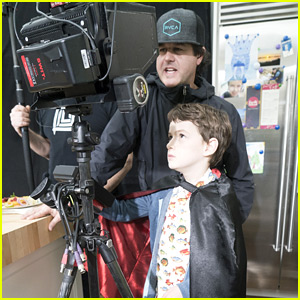 Jason Maybaum stars as Fletcher in the upcoming Freaky Friday movie musical on Disney Channel this week, however, that wasn't his only role.
In between filming, the 10-year-old actor was also learning what goes on behind the camera too. Jason started to pursue more of his interest in the camera and lighting aspects of filmmaking and bonded with the crew, who gave him advice and took him under their wing.
"I want to be the next Ron Howard or Steven Spielberg," Jason revealed to JJJ in our exclusive interview.
"When I started acting I saw that the director is the boss, so I decided to learn as much as I could from everyone on set so someday I could be the boss," he adds about his inspiration in wanting to learn more."
Jason goes on to tell us what he learned, which was "to look, listen, watch and learn from everyone. Anyone who is older than me can teach me something. I have learned how to change the lighting intensity on shots to control shadows to make the actors look different or better, depending on what the director wants."
He also gave a lot of thanks to the crew who did help you out.
"The camera and sound crew were awesome, they set me up with gear and taught me how to run the equipment so I know not only how to shoot a scene, but what it takes to make the actors look good."
As far as transitioning from in front of the camera to behind it, it wasn't that difficult.
"The crew was so awesome and willing to let me learn," Jason says. "I was able to use my acting skills and link them with what the crew needed to make things work, so it made me a better actor."
At the end of the shoot, the crew even gave him a video camera as a gift – and yes, he's been using his video camera a lot!
"I film everything. Sometimes it is great, sometimes good, sometimes bad. But that it is why I do it. No matter how I turns out I learn something about framing the shot, the lighting, the blocking, or the feel for the scene. I love to film stuff."
Freaky Friday premieres Friday, August 10th on Disney Channel.
Like Just Jared Jr. on FB