Fri, 12 October 2018 at 12:00 pm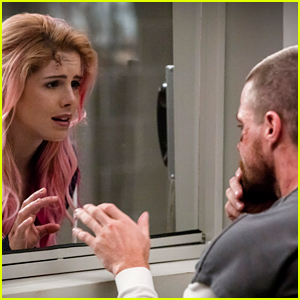 Arrow kicks off its' seventh season on Monday night (October 15), and unlike in the past, there won't be as much Olicity scenes as you'd hope for – but showrunner Beth Schwartz is giving fans some intel on the couple's fate going forward.
"They are not adapting well," she shared with reporters. "They're both pretty miserable. Felicity is away from her husband, William's away from his father, and their family and their city and their real lives, so it's not going well."
Well, that's not great. We hate sad Olicity.
But don't fret, Beth says, because while Olicity are apart at the moment, they're still bonded by their story.
"In terms of storytelling, it would be great if both of them are fighting for the same thing," she adds, "so even if we don't physically see them together, their stories are pretty much — their goals are the same."
All in all, Oliver and Felicity will "connect without physically connecting, which I think is really cool because they're both fighting for their families, so you don't need to see them together to get that connection."
Stay tuned for more Olicity and Arrow on JJJ!
Like Just Jared Jr. on FB