Fri, 01 February 2019 at 5:46 pm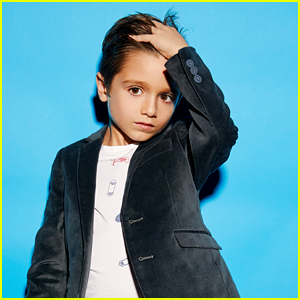 By now, you've seen Bird Box on Netflix quite a few times and are obsessed with the movie – and maybe, you attempted the Bird Box Challenge (don't do that anymore, k?).
JJJ got to catch up with one of the young stars of the film, Julian Edwards, who plays Sandra Bullock's son named Boy.
"My favorite part about filming Bird Box was to learn to do my own stunts," Julian told JJJ. "I had never done stunts before and I loved it."
He added, "There were times where I'd be a little scared like when I had to fall out of the boat but I wanted to do it myself and I wanted to be brave and everyone cheered on me at the end of my scenes."
Julian also opened up about making friends with all his cast mates on the set.
"I'm very happy I made so many great friends on this set and I loved playing with Mark, our first AD, and Matt and Charlie they would help me set up these awesome battle scenes with my army toys and Mark would film it from above pretending it was a helicopter shot, it was so much fun."
"Sometimes Sandra would bring [her children] Laila and Louis to set and we would play and build Legos on her bus, Louise and I had a good time playing together we like a lot of the same things."
Bird Box is streaming now on Netflix. Check out Julian's 10 Fun Facts below now!
I love to play kickball with my friends at school, we take our games very seriously and even have championship games.
I love all sports especially Baseball and Basketball. My favorite teams are the LA Dodgers and the LA Lakers
One thing I love to do is to pretend to be a sportscaster and announce games, I think I'm pretty good at it.
I have an older sister Stella who inspired me to become an actor, she's is one of my best friends too.
My first job was modeling for Gymboree when I was 2.5 years old.
I saw myself on TV for the first time on a few Christmas commercials my sister Stella and I did for TLC when I was 3 years old.
My favorite food is Steak with fries.
I love going to school and my favorite subject is science.
If I could do anything I'd make everything equal for all, I like to be fair and remind everyone to be kind and helpful.
I love building Legos and Hot Wheel tracks and then make movies of my cars in action.
Like Just Jared Jr. on FB