Fri, 01 February 2019 at 6:11 pm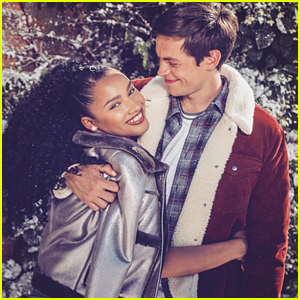 Free Rein's Valentine's Day special is out on Netflix now and we can hardly wait to watch it!
Star Jaylen Barron opened up to IBTimes about the special and how fans can expect some cute Zin (Zoe and Pin) moments.
"They get in a little argument," she shared. "It's a little heated. It's a little fun. It's a little spice."
However, don't worry, they're all good!
"I think what fans like to see is Zin together — like Zoe and Pin — and they love to see their relationship because it's unique in its own way," Jaylen added. "…[So], I like the scene where Zoe and Pin get to kiss. Not because I get to kiss the other person, but I like to see the fans get what they want."
Jaylen also shared that the special really focuses on Zoe's friendship with Gaby, Becky and Jade.
"We go off on this really cool adventure," she said. "We're trying to find this thing called the Maid's Stone, and then we're discovering [more] about Gaby and Zoe's relationship, along with Becky [Kerry Ingram] and Jade's [Manpreet Bambra]… I feel like it's really about girl power, and that's what I really like about it."
Free Rein's Valentine's Day special is out NOW on Netflix!
Like Just Jared Jr. on FB