Thu, 07 February 2019 at 5:03 pm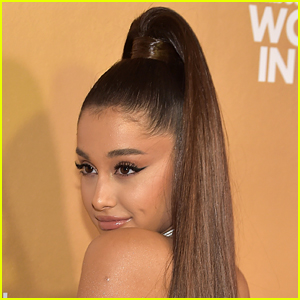 Ariana Grande will not be performing at the 2019 Grammys and now she's speaking out to explain what led to her planned performance being scrapped.
The 25-year-old singer is slamming the producer of the awards show after he made a comment about her not performing, even though she's nominated for several awards.
Grammys producer Ken Ehrlich said in an interview with the Associated Press that Ariana "felt it was too late for her to pull something together."
Ariana then took to Twitter to respond to the statement. She wrote, "i've kept my mouth shut but now you're lying about me. i can pull together a performance over night and you know that, Ken. it was when my creativity & self expression was stifled by you, that i decided not to attend. i hope the show is exactly what you want it to be and more. 🖤"
"i offered 3 different songs. it's about collaboration. it's about feeling supported. it's about art and honesty. not politics. not doing favors or playing games. it's just a game y'all.. and i'm sorry but that's not what music is to me," she continued.
Click inside to read all of the tweets…
Read all of the tweets below!
mhmmm here it is ! "too late for her to pull something together……" pic.twitter.com/YwuBOUkZjr

— Ariana Grande (@ArianaGrande) February 7, 2019
i've kept my mouth shut but now you're lying about me. i can pull together a performance over night and you know that, Ken. it was when my creativity & self expression was stifled by you, that i decided not to attend. i hope the show is exactly what you want it to be and more. 🖤

— Ariana Grande (@ArianaGrande) February 7, 2019
i offered 3 different songs. it's about collaboration. it's about feeling supported. it's about art and honesty. not politics. not doing favors or playing games. it's just a game y'all.. and i'm sorry but that's not what music is to me.

— Ariana Grande (@ArianaGrande) February 7, 2019
passed a Grammy's bus with my face on it typing those.

— Ariana Grande (@ArianaGrande) February 7, 2019
hope that helps everyone understand my decision. i am still grateful for the acknowledgement this year. 🖤

— Ariana Grande (@ArianaGrande) February 7, 2019
Like Just Jared Jr. on FB