Tue, 12 February 2019 at 12:45 pm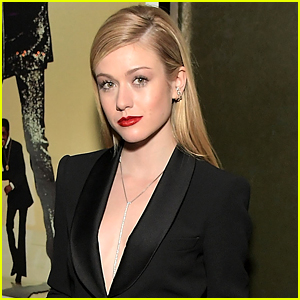 Katherine McNamara's Mia is a QUEEN!!!
After weeks of discussions and theories from fans on just who Mia (fka Maya) was on Arrow, the truth was revealed on last night's episode – she's Mia Smoak, the daughter of Felicity Smoak and Oliver Queen!
"I actually don't know the answer to that question yet," Katherine shared with ET first about Mia's last name being Smoak instead of Queen. "I don't even have all the answers… but, maybe. Even for me, that's still a question mark."
Katherine continued, "In a few episodes, there will be an all-future episode where we really get to see a lot of Mia's childhood and a lot of moments that really shaped her into who she became and why those qualities are the way they are, including her last name…Ultimately, the most important thing to know at this point is that this is indicative of how dire the world has become… To know that even having the last name Queen puts a target on your back."
She also opened up about her audition and knowing that the weight of her role, being the daughter of Olicity, is a lot.
"After I was cast, I get a phone call from Beth Schwartz, the showrunner, and she said, 'Oh yeah, congrats on joining the show! By the way, everything you know is a lie. You're Oliver and Felicity's kid – so congrats and have fun! Thanks, I'll talk to you soon.' And I was like, 'Wait, wait, wait! Hold on! Let's press rewind – excuse me?'"
Katherine adds that she knows "what a responsibility this is. I've seen the power of not only the Arrow fandom, but how much they love Olicity. How much this relationship is beloved by them and how passionate they are and how many opinions they have about it – so I know how important this is going to be for the fans if this is done right."
"Then I proceeded to watch all six seasons of the show and do as much research on the comic wikis and the show wikis and everything that I possibly could. Beth had said to me that they wanted her to be the perfect blend of the two of them – to be physically everything Oliver Queen and then intellectually everything Felicity Smoak, so I had my work cut out for me."
TELL JJJ: Are you surprised that Mia is the daughter of Olicity or did you know from the start?
Like Just Jared Jr. on FB