Tue, 07 May 2019 at 11:37 am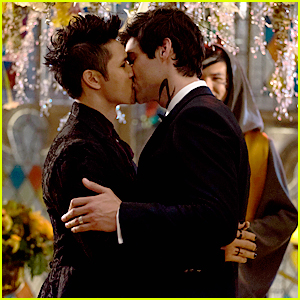 It's official – Magnus and Alec are finally married!
The duo tied the knot at the end of the two and a half hour finale of Shadowhunters.
"I think storyline-wise, [Magnus and Alec] is the most complete storyline," Matthew Daddario shared with TV Guide about the couple's arc. "Alec gets this wonderful thing where he starts off the closed, closeted young man, who's emotionally unavailable, stunted."
"We see over three seasons that constant growth. Towards the end, where he is now, he's become a happy, capable adult. … It took a significant amount of accepting who he was and accepting that the people around him love him for who he is and what he does — for his character. So it's perfect."
He added, "It's a good, solid storyline, and I'm happy it's ending like this and not just thrown to the wind or ending up in Season 7 where things just sort of go haywire."
Harry Shum Jr also spoke about how it was perfect to have their wedding at the end.
"The fans have been championing that for a long time," he shared. "I hope that they're happy with it. They deserve it for all the love that they've been giving us. And who doesn't like to go to a wedding? I think what's nice is we only invited like 100 people, but it will be millions of people watching on-screen, so they're invited as well."
He added, "We make this show and put it out there for entertainment, but it's the fans that are living it and actually coming together and expressing how much this means to them… being proud of what they are and who they love, and I think that's the legacy of the show."
See all the pics from Magnus and Alec's wedding below!
Like Just Jared Jr. on FB