Wed, 08 May 2019 at 2:47 pm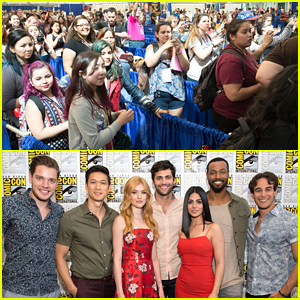 The Save Shadowhunters fan campaign kicked off mere moments after Freeform announced its' cancellation.
It's still going strong too – with fans still campaigning for any other network or streaming service to pick up the series.
Showrunners Todd Slavkin and Darren Swimmer are opening up with ET about the campaign and praising for the fans for their efforts.
"I think it's the end of Shadowhunters in this permutation. Those books live on and the rights live on. Darren and I don't have the rights and we don't control the rights. I think we're all kind of going onto other things, but having said that – you never say never," Todd says about bringing the series back.
Darren added, "The only reason that it seems like it would be a long shot to [continue this show] in this permutation is that everything has been disassembled. The sets have been sold, and all the props, and that stuff [is gone.] It's not like we could ever come back and just continue it where it is. It would be starting from scratch."
"The fans did everything right," he continued.
Todd added, "It's an incredibly passionate, creative, strong fandom that should be so proud of themselves because this won't be forgotten and it's bigger than a TV show. What this fandom is preaching is inclusion, and love for all, and all these positive things in life and I think that's a rarity. I think that will go down in history."
Like Just Jared Jr. on FB