Mon, 20 May 2019 at 12:15 pm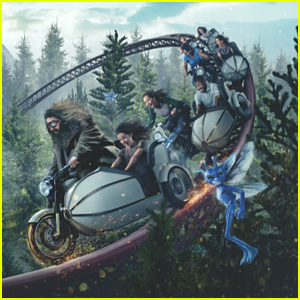 Brand new details about Hagrid's Magical Creatures Motorbike Adventure, the newest attraction at Universal Orlando's Wizarding World of Harry Potter, have just been released!
Hagrid's Magical Creatures Motorbike Adventure is an all-new coaster, located where the Dragon Challenge coaster used to be, and includes an actual forest with over 1,200 live trees that bring the Forbidden Forest of the Harry Potter books and films to life.
Guests will fly deep into the Forbidden Forest with Hagrid as their guide, braving the mysteries and thrills beyond the grounds of Hogwarts castle on a groundbreaking coaster experience unlike any other.
You'll also encounter some of the wizarding world's rarest magical creatures, like a majestic Centaur, a swarm of mischievous Cornish Pixies, Fluffy, the three-headed dog – and even a creature that's never been seen in the films; and you might even become entangled in a thicket of Devil's Snare!
You can check out two intro videos below!
Like Just Jared Jr. on FB