Sun, 07 July 2019 at 6:57 pm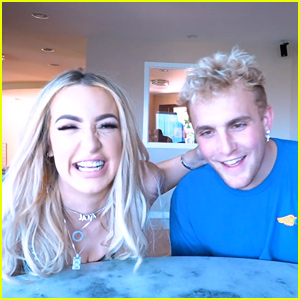 Tana Mongeau is opening up about whether or not she is going to take her fiance Jake Paul's last name when they get married!
The engaged YouTube couple sat down for a serious talk on the name change, why people think they're engagement is fake, how they don't ever fight, and getting a prenup.
"Do you want to be Tana Paul? We should talk about this. Tana Mongeau, it's hard to say that," Jake said in his video.
"Yeah, that's actually crazy. I was actually debating if I wanted to pull a Hailey Bieber and secure the instagram handle @TanaPaul, and have it for awhile. As long as I know I could switch back to @TanaMongeau without ease and not lose my verification, in case we get a divorce," Tana said in response.
"I'll be Tana Paul. I like the last name Paul. I think Tana Paul has a ring to it, and you've been calling me Tana Paul for a while now," she added.
Check out Tana Mongeau and Jake Paul's sit down talk about their engagement starting at the 17 minute mark…
Like Just Jared Jr. on FB