Mon, 15 July 2019 at 3:03 pm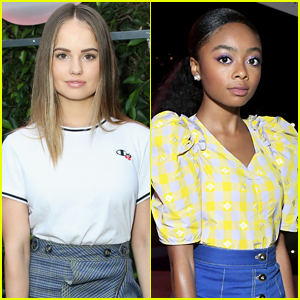 Debby Ryan and Skai Jackson are honoring their Jessie co-star, Cameron Boyce.
The 26-year-old and 17-year-old actress both paid tribute to Cameron's memory in touching Instagram posts on Thursday (July 11).
Cameron died suddenly in sleep after suffering a seizure on on July 6.
"This ripped me up. I keep trying and I can't make anything make sense," Debby wrote in her emotional post. "He was blameless, and relentlessly joyful; he was good. Through and through, Cam is good, in all ways and to all people. And the most alive. It's wrong. I am so confused and devastated and angry. But that isn't very Cam. He'd cast any shade of sadness or darkness in colors of positivity; he couldn't help himself but to always leave you smiling, or laughing, or dancing. So sincere, kid Truth. He was good. My heart is with his parents, Vic and Libby, full of grace, and his wonderful sister Maya. An unimaginable sorrow. I'm grateful for our Jessie family, with whom to uniquely grieve our guy — Peyton, Skai, Kevin and Karan, whose soul is also far too special to have to experience this depth of grief. There are beautiful connections and beams of light, ever present, truly the fingerprints of Cam still around and showing up in the midst of this. I love him so much. Forever. You're alive in the legacy of love you built, and I will keep that light burning in me for the rest of my journey. The world was robbed. We're better for you."
Skai shared her own message on Thursday (July 11), along with a video of Cameron singing.
"#tbt @thecameronboyce was such a talented actor and a phenomenal dancer. What most people didn't know was that he also was a very good singer," she wrote. "I remember years ago, my mom would tell him that his voice is so good and the girls love him, he could be as big as Justin Bieber or better. He would say, 'Umm, I don't know. Maybe one day.' Singing was not his passion but he could definitely hold his own. -Ordinary People by @johnlegend #CameronBoyce."
Click inside to see Debby Ryan and Skai Jackson's Instagram posts…
Watch Sofia Carson's video tribute to Cameron Boyce here!
Like Just Jared Jr. on FB