Tue, 16 July 2019 at 9:05 am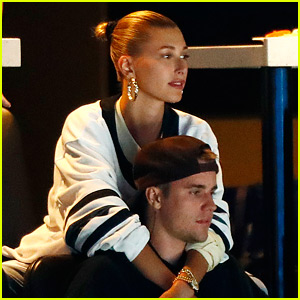 Hailey Bieber is defending her hubby, Justin Bieber, after Tool frontman Maynard James Keenan had something not-so-nice to say.
Last week, Justin posted some lyrics to the Tool song, "The Pot," writing, "Who are you to wave your finger?/ You must have been outta your head/ Eye hole deep in muddy waters/ You practically raised the dead."
It prompted a bunch of headlines naming Justin a Tool fan! Well, Tool frontman Maynard James Keenan didn't seem to pleased, responding "#Bummer" to a headline that read "It's official: Justin Bieber is a Tool fan."
Hailey saw that comment and wasn't happy about it, so she wrote Maynard a response.
He expressed he was a fan of your music. Grew up listening to your music. You must be unhappy with yourself that you want to make people feel small who express their admiration for you. Very childish and hurtful thing to do. I hope u find security within yourself. Sad place to be

— Hailey Bieber (@haileybieber) July 15, 2019
Like Just Jared Jr. on FB