Thu, 18 July 2019 at 6:06 pm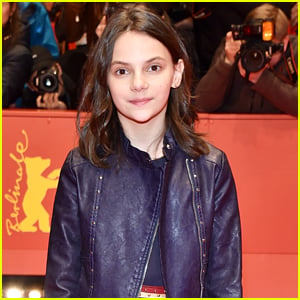 Dafne Keen is sharing her spirit animal – literally!
The 14-year-old Logan actress, who is starring in HBO's upcoming adaptation of Philip Pullman's His Dark Materials trilogy, talked to Entertainment Weekly about her ideal dæmon during an interview at Comic-Con in San Diego, Calif.
Dæmons, for those unfamiliar with the trilogy, are one of the most unique and captivating parts of the His Dark Materials world.
In the series, every human has an animal companion, with whom they can communicate, that acts as a living, breathing representation of the human's soul – which means that the shape a person's takes can tell you a lot about them.
"You know these small tropical monkeys?" Dafne, who stars as the series' protagonist, Lyra Belacqua, said, when asked about what her dæmon would be.
Lin-Manuel Miranda, who co-stars in the series, had the best answer to the dæmon question though: Pizza Rat.
"Do you remember that rat that dragged the pizza down the subway?" he said. "I think my dæmon can take care of itself, it's a New Yorker… I think it's a pizza subway rat. I'm a New York rat."
Listen to one of the iconic Disney songs Lin-Manuel Miranda wrote here!
Like Just Jared Jr. on FB