Sat, 17 August 2019 at 12:22 pm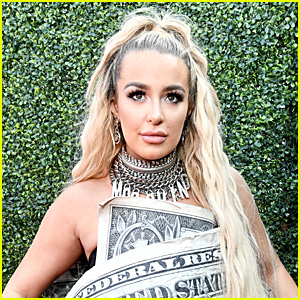 Tana Mongeau is giving fans an update on what's been going on in her life.
The 21-year-old YouTube star has remained quieter than normal since her wedding to Jake Paul, and is sharing some sad news.
"idk really how to write this and i know i don't owe anyone an explanation about anything in my life but i guess i'll always feel like i owe you guys an update as to what's going on in my life beacause you are my family just as my as my family is my family," she started out on Instagram Story.
"before i was supposed to leave on the honeymoon with Jake something terrible and unexpected happened randomly with one of my family members. it hit me very hard and i didn't know how to handle it. luckily i was already in Vegas and spend the next few weeks staying there and going back and forth," Tana continued.
"yesterday i was flying back to Vegas to deal with the same emergency- and my grandma, who lived with my mom and dad, ended up having a random heart attack and passing away.. this was so unexpected on top of everything my entire family has been going through. my heart truly breaks for my mom." Read the full note to fans in the gallery.
Our condolences to Tana Mongeau and her family during this time.
headed to vegas to be with my family. remember to always tell the people you love that you love them even if they make you mad. even if it's hard. life should always be about forgiveness because you never how long you'll have with the people you love. 🖤

— Tana Paul (@tanamongeau) August 16, 2019
still trying to get a video out for all of you asap though. you are my family as well and if i can make you smile when i can't smile that is serving my purpose on this planet. love u 🖤🦋

— Tana Paul (@tanamongeau) August 16, 2019
Like Just Jared Jr. on FB