Sat, 31 August 2019 at 1:22 pm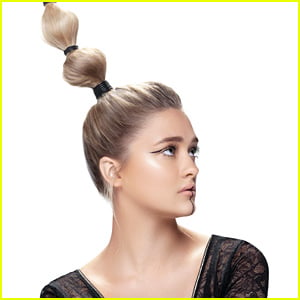 Lizzy Greene rocks a hair-raising ponytail in her new shoot for Inlove Magazine!
Here's what the 16-year-old A Million Little Things actress had to share with the mag:
On her character, Sophie Dixon, in season two of ABC's A Million Little Things: "I can't spoil the storylines, but I can say you really get to see a different side of her. Something is going to happen that really shakes her mentality and changes her relationships with some of the other characters. I love a challenge, and Sophie's gonna have a few this next season."
On her thoughts about what to share, and what not share, on social media: "This is such a great question. As someone who has experienced cyberbullying and people spreading rumors, I would definitely say take a deep breath and don't blast your anger on social media. In the past, when people have said hateful things, I immediately wanted to jump on Instagram and set them straight, but my mom always stopped me. When you act out of anger instead of kindness, what you say could hurt you later. Everything put on social media is permanent, even if you delete it seconds after. People can still screenshot. Also remember, everyone is dealing with things that you don't even know about, so think before you act."
On what areas she'd like to branch out into in the future: "I would love to start a singing career. Singing is a huge passion of mine, and it's actually where I started out. I also love fashion and writing, too. Creating a fashion line or starting a blog would be so cool."
On her advice: "To anyone out there who is hoping to become an actor, or has any other dreams, every great dream begins with a dreamer."
For more from Lizzy, visit InloveMag.com.
READ MORE: Lizzy Greene Shares Sweet & Short Goodbye to 'Nicky, Ricky, Dicky & Dawn'
10+ pictures inside from Lizzy Greene's new shoot…
Like Just Jared Jr. on FB