Fri, 20 September 2019 at 2:06 pm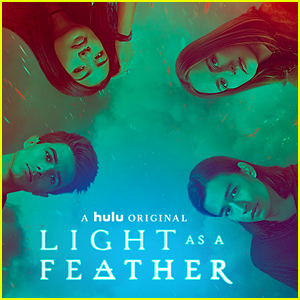 Check out the new trailer for the return of season two of Light as a Feather!
Hulu released the new trailer and key art on Friday (September 20).
Here's the synopsis: "Having doubled-down by playing a new round of 'Light as a Feather' that puts all their lives on the line, McKenna and friends are optimistic that they're finally done with the curse. But is the curse done with them? Tensions rise as the gang soon find themselves in a race to discover the game's origins before more lives are lost."
It stars Liana Liberato, Brianne Tju, Haley Ramm, Jordan Rodrigues, Brent Rivera, Dylan Sprayberry, Katelyn Nacon, Adriyan Rae, and Robyn Lively.
The remaining eight episodes of the second season of Light as a Feather premiere on October 4!
Watch the trailer now, and see the episodic descriptions below.
READ MORE: Liana Liberato, Brianne Tju & Haley Ramm Celebrate 'Light as a Feather' at Season Two Premiere

Light as a Feather Season 2: Part 2 Trailer (Official) • A Hulu Original
Click inside to see the episodic descriptions…
Episodic Descriptions:
EPISODE 209 "…Fresh as a Daisy": It's New Year's Eve as the girls anxiously celebrate their return to normal. Trey and Sammi's band, Bit of Decay, play their biggest show yet.
EPISODE 210 "…Trapped as a Rat": Violet encounters an old friend in the most unlikely of places. McKenna tries to find answers, only to find more trouble.
EPISODE 211 "…Clear as Mud": The girls come up with a new plan that soon causes friction. Trey and Sammi prepare for a huge life change.
EPISODE 212 "…Hungry like a Wolf": Alex and Peri's cabin escape takes an unpleasant turn. The rest of the gang struggle to help a friend.
EPISODE 213 "…Thick as Thieves": As the friends turn to an unlikely source for help, one is forced to confront her greatest fear.
EPISODE 214 "…Mean as a Rattlesnake": As the stakes escalate, the girls find themselves scrambling to piece together clues.
EPISODE 215 "…Quiet as a Tomb": McKenna pressures a friend to deliver on a deadly promise.
EPISODE 216 "…Brave as a Lion": With the curse closing in, the girls must make a tough decision, and one faces a hard truth that could change everything..
Like Just Jared Jr. on FB