Tue, 01 October 2019 at 5:08 pm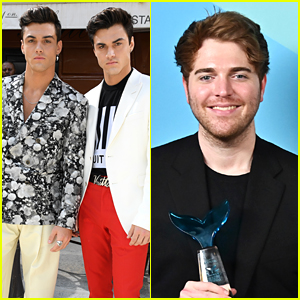 Ethan and Grayson Dolan are getting help for a "very personal and important" new YouTube video.
The Dolan twins have enlisted Shane Dawson to help have the conversation about the topic, which will be shared next week (October 9).
While no subject has been revealed, or very many details, it's likely it will be a heavy conversation, given Shane's more recent videos.
"Filmed something very personal and important to us. A message we've been wanting to share with you for a while now. Thank you so much @shanedawson for having this conversation with us, you truly helped us so much ❤️," Ethan wrote on Twitter with photos from their sit down.
"Hey… There won't be a new video up tomorrow. Ethan and I want to take our time with this one. It's a really important video for us. We also want to thank @shanedawson so much for helping us and having this conversation with us that we will share with you next week ♥️," Grayson added on his account.
Shane is about to drop the first episode of his new series, The Beautiful World of Jeffree Star, where he dives into the makeup industry, and even tackles the whole James Charles/Tati Westbrook drama. Check out the trailer!
Like Just Jared Jr. on FB