Wed, 02 October 2019 at 4:48 pm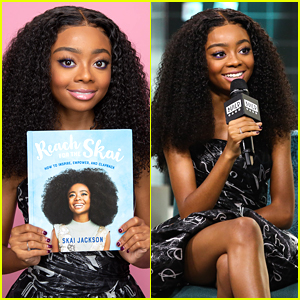 Skai Jackson holds up her book, "Reach For The Skai: How to Inspire, Empower, and Clapback", while making an appearance at Build Series on Tuesday (October 1) in New York City.
The 17-year-old actress and now author talked about the decision to write a memoir at a young age, how she got started in acting, and talked about her late friend and co-star Cameron Boyce.
"I'm so grateful I had that time [with him on Jessie], it was five years, a crazy five years," Skai said on the show. "It was the best thing ever. I got to spend every single day with him, so it was like having a brother, and everyone else included. He was just such a ray of sunshine anytime he came into the room. Anywhere he would go, he would just cheer you up. He was such a lovable person. I'm just so grateful I got to spend those years with him, for sure."
Skai also talked about keeping his legacy going.
"That was one thing that his family wanted to keep, that we just continue his legacy," she added. "Which isn't hard to do, and not a pressured thing. It was just something we really want to do. And The Cameron Boyce Foundation, you can donate to that. And he has a clothing line he was actually going to put out himself, and they dropped some things on that, which is really exciting. We just want to keep his inspiration, everything he wanted to do, and put it out into the world."
You can now purchase Skai Jackson's brand new book "Reach For The Skai: How to Inspire, Empower, and Clapback", anywhere books are sold!
Like Just Jared Jr. on FB