Mon, 04 November 2019 at 2:34 pm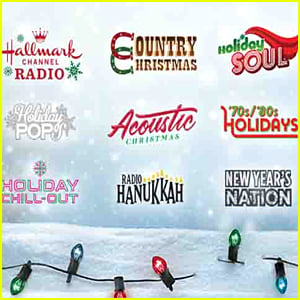 While some are still waiting for the Thanksgiving holiday to arrive, others are blasting Christmas music already, thanks to the SiriusXM holiday channels!
There's a variety of traditional holiday songs, classical Christmas carols, country Christmas classics, contemporary holiday tunes, soul music, Hanukkah music and Latin seasonal music.
Subscribers are able to listen online, on-the-go with the SiriusXM mobile app, and at home on a wide variety of connected devices including smart TVs, Amazon Alexa devices, Apple TV, PlayStation, Roku, Sonos speakers and more.
Want to see the full lineup? Click INSIDE now!
Holly — will feature contemporary holiday music as well as traditional favorites, including songs by Kelly Clarkson, Pentatonix, Josh Groban, Trans-Siberian Orchestra, Brian Setzer Orchestra, Celine Dion, Ariana Grande, Meghan Trainor, Michael Buble, Sam Smith and Mariah Carey. The channel will run from now until December 5th on Channel 65. Then on channel 30 through December 28th.
Holiday Traditions (channel 73) will feature traditional holiday music from the '40s through the '60s by artists such as Frank Sinatra, Andy Williams, Ray Conniff, Bing Crosby and Nat "King" Cole. The channel will run through Wednesday, December 26th at 3am ET.
Holiday Pops (channel 780) will feature classical Christmas carols and other holiday favorites by the greatest classical musicians of all-time, including the Mormon Tabernacle Choir, Boston Pops, Luciano Pavarotti, The New York Philharmonic, King's College Choir and Thomas Hampson. This channel is running now on 782 until Monday, December 24th. Then, it will switch to 76 and run until Wednesday, December 26 at 3am ET.
Country Christmas (channel 779 & 58) will feature a mix of country Christmas music from contemporary and classic country artists like Garth Brooks, Carrie Underwood and Willie Nelson. This channel will air on 779 until Monday, December 3rd; then it will switch to channel 58 and run until December 26th.
Navidad (channel 781) will feature contemporary Latin holiday music and traditional classics, including Jose Feliciano, Fania All-Stars, Gloria Estefan, Marco Antonio Solis, El Gran Combo and Tito El Bambino. This channel runs until Sunday, January 7th.
Holiday Soul (channel 778, and channel 49) will feature classic soul and Motown holiday music from the '60s and '70s as well as R&B from the '80s and '90s including Whitney Houston, Aretha Franklin, Michael Jackson, Luther Vandross, Smokey Robinson & The Miracles, Dionne Warwick, The Four Tops, The Supremes, The O'Jays, James Brown, The Temptations, Lou Rawls and Toni Braxton. This channel will air on 777 until Monday, December 3 at 3am ET, before switching to channel 49 and will run until Wednesday, December 26 at 3am ET.
Radio Hanukkah (channel 788) will feature an extensive collection of Hanukkah-themed music, including contemporary, traditional and children's selections as well as daily reflections and prayers related to the holiday. This channel will run from November 30 at 3am ET – Tuesday, December 11 at 3am ET.
New Year's Nation (channel 30) is the ultimate soundtrack to New Year's Eve parties around the country and will feature the biggest, upbeat party hits from genres across SiriusXM's music platform. This channel will run from Friday, December 28 – Wednesday, January 2 at 3am ET.
Hallmark Channel's 24/7 "Countdown to Christmas" (channel 70) is voiced by one of the network's most beloved stars, Candace Cameron-Bure, SiriusXM's Hallmark Channel Radio will keep listeners in the holiday mood all day and all night with timeless Christmas carols and music introduced by top network talent, including LeAnn Rimes, Holly Robinson Peete, Lacey Chabert, Danica McKellar, Kellie Pickler, and more. Hallmark Channel stars will also open up about their personal yuletide traditions, share their own favorite songs from the season, and take listeners behind the scenes of their new "Countdown to Christmas" movies. This channel will run until Sunday, December 30 at 3 am ET
Acoustic Christmas (Channel 14 & 782) will feature acoustic holiday classics from well-known singers and songwriters, such as Jack Johnson, George Ezra, Norah Jones, Maroon 5, The Lumineers, Jewel, and Jason Mraz. You can listen on channel 782 until December 14th; then on channel 14 until December 26th.
Christmas Spirit (Channel 63 & 787) will feature Christmas music and holiday favorites from contemporary Christian artists, including Michael W. Smith, Amy Grant, MercyMe, for KING & COUNTRY, Matthew West, Chris Tomlin, Francesca Battistelli, and Lauren Daigle. You can listen on 787 until December 21st, then on channel 63 until December 26th.
70s/80s Holidays (channel 783) will feature the biggest and most familiar Christmas and holiday hits from the '70s and '80s, featuring artists Elton John, Carpenters, Paul McCartney, The Jackson 5, Bruce Springsteen, Wham!, Madonna and Hall & Oates. You can listen to the channel until December 26th.
Rockin' Xmas (channel 784) will feature classic Christmas songs that rock, including hits, rarities, and live tracks from AC/DC, Bon Jovi, U2, Twisted Sister, REO Speedwagon, Bruce Springsteen, The Pretenders, and Tom Petty and the Heartbreakers. The channel will run until December 26th.
Holiday Chill-Out (channel 783) will feature downtempo electronic holiday music from artists like Kaskade, Lost Frequencies, DJ Style, and more. You can listen until December 26th.
Jazz Holidays (channel 785) will feature Christmas favorites from classic legends and contemporary jazz stars, including Ella Fitzgerald, Vince Guaraldi, Diana Krall, Joey DeFrancesco, David Benoit, Wynton Marsalis, Dianne Reeves and Dave Koz. Listen now – Wednesday, December 26 at 3am ET.
Jazz Holidays (channel 786): Fire up the chestnuts and be prepared to bop along under the mistletoe with Christmas favorites from classic legends and contemporary jazz stars alike. Featuring songs from Ella Fitzgerald, Kenny G, Count Basie Orchestra, and more. This channel will air through Thursday, December 26th @ 3am ET.
Like Just Jared Jr. on FB