Fri, 15 November 2019 at 6:27 pm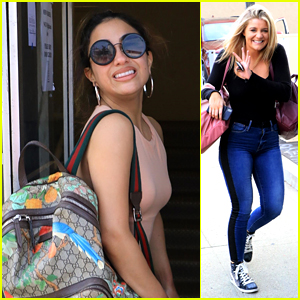 Ally Brooke heads into the dance studio with a cute backpack alongside Lauren Alaina in Los Angeles on Thursday afternoon (November 14).
The two singers met up with their pro partners to work on their upcoming performances for Dancing With The Stars next week.
Lauren is set to perform a Paso Doble and Viennese Waltz, while Ally will tackle a Viennese Waltz and Charleston.
Speaking with PopSugar recently, Ally opened up about how being on DWTS has helped her strength both physically and mentally.
"It's amazing just being able to kind of push myself to my limit, really strengthen my body, and just become in better shape in general. . . . It transforms your body and, of course, just your mentality."
Ally adds that "I feel like I am so much more confident in myself, in my body, in my decision-making, and knowing what it is that I want and what I do not want for myself. Being able to vocalize that and express that is so important, especially as a woman. Just knowing that I have so much power within myself now, and I'm capable of so much, is really such a gift that it's priceless. I'm just more of a powerful woman."
Like Just Jared Jr. on FB