Sun, 05 January 2020 at 11:00 am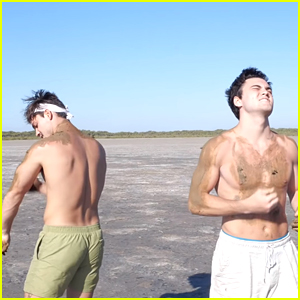 Ethan and Grayson Dolan cover themselves in mud to help avoid sunburns in the second part of their latest survival challenge.
The twins attempted to survive 48 hours in the Australian wild, but had to end the challenge after 32 hours.
In the second part, Ethan and Grayson had trouble finding food since they are vegan and couldn't get any wildlife, and even went through some quick sand.
After uploading the second part of their series, the guys took to Twitter to help spread awareness for the awful wild fires that are taking place in the country.
"Filming these past two vids in Australia was always a dream of mine. Australia really feels like my second home and has an extremely special place in my heart. I am so grateful that I was about to live out that dream. ♥️," Grayson wrote. "It is so awful to see the damage being done to the country and wildlife caused by these terrible wildfires 😢 Praying for rain and for all of the firefighters risking their lives in Australia right now. Please help spread awareness. Sending love. ♥️"
"Australia is in my thoughts right now. I just want everyone to be safe. Aus is like a second home to me I have so many great friends there. The most beautiful nature I've ever seen as well," Ethan shared on his account. "Praying for the wildlife, those who live there & the courageous people fighting the fires."
Like Just Jared Jr. on FB