Mon, 06 January 2020 at 10:56 pm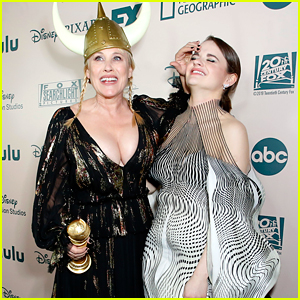 Joey King is opening up about what actually happened when Patricia Arquette accidentally hit her in the head with a Golden Globe and cause a bruise to her forehead.
The 20-year-old The Act actress showed off her bruise on social media after attending the Golden Globes parties on Sunday night (January 5) in Beverly Hills, Calif.
"Patricia and I were in the video photo booth elevator at the InStyle afterparty and we were trying to do a funny little skit, where we were singing opera. And as I was taking a bow, she raised her Golden Globe statue up and whacked me in the forehead," Joey told THR. "Those statues aren't light at all!"
She added, "You know, it felt pretty great. If I'm gonna get hit in the head with anything, it might as well be my friend's Golden Globe."
Joey's mom added, "Joey and Patricia were doing one of the skits in the elevator photo booth at the InStyle party and Patricia was pretending to be an opera singer, wearing a horned hat. Patricia threw her arms up in the air, as Joey was taking her top hat off to take a bow, and Patricia smacked her in the head accidentally!"
Click inside to watch the actual video…
Watch the actual video below!
Like Just Jared Jr. on FB