Fri, 14 February 2020 at 1:00 pm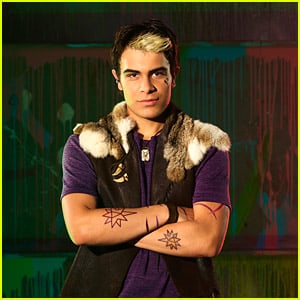 Pearce Joza is stirring things up at Seabrook High in the upcoming Zombies 2 as part of the new wolf pack!
The 17-year-old actor plays Wyatt, one of the new werewolf characters in the film, alongside Chandler Kinney and Baby Ariel.
JJJ spoke with Pearce to get the scoop on his character, joining a sequel, and his future endeavors.
Be sure to tune in TONIGHT (February 14) for Zombies 2 at 8pm on Disney Channel!
Click inside to see our full interview with Pearce Joza…
Just Jared Jr: Can you tell us about your character?
Pearce Joza: I play a werewolf named Wyatt. Wyatt is protective of his wolf pack but also likes the town of Seabrook and the people within. He wants everyone to get along and appreciate each other. Before I auditioned, Wyatt was described to me as sensitive and enlightened. From the beginning, he wants to cooperate with the people of Seabrook, but mostly he's hopeful that he and his sister, Willa (Chandler Kinney), can find a way to help their pack.
JJJ: Wyatt definitely has an interest in Addison, what can we expect from their relationship?
PJ: Wyatt does have an interest in Addison! Who wouldn't be interested in Addison; she's inclusive and kind. You'll have to watch the movie to see Wyatt's specific interest in her!
JJJ: What was it like stepping into a sequel? Were you nervous?
PJ: It was a bit intimidating coming on board with the cast from the very successful ZOMBIES movie. However, when I landed in Toronto everyone from the first movie made me feel right at home. It was as though I had known every one of them my entire life!
JJJ: What was the hardest part about filming the movie?
PJ: The first thing I did upon arrival in Toronto was dance rehearsal. As a young child I performed in musical theatre, so I've danced a bit. But I was awed by the talent of the professional dancers! I'm a fairly confident person and I am up to try new things, however, I quickly found myself drifting to the back of the studio! But the choreographers and professional dancers were so good that I was able to pick up the choreography and make my way back to the front.
JJJ: How was it recording your first song?
PJ: I was getting over bronchitis while recording all my songs! For "Flesh and Bone," the first song I recorded, I was extremely nervous as it was my first time in a recording booth. Immediately, I was put at ease by everyone I was working with. There was even lemon tea to soothe my throat.
JJJ: Any more singing or music in your future?
PJ: I'm actually writing a song now! We'll see if anything comes of it. I started singing in musical theatre at age four in my hometown of Durango, Colorado. Singing is in my DNA: my parents both love music, my mother worked behind the scenes in the music industry, and my grandfather used to sing under the West 8th Street bridge in Bayonne, NJ as a teenager.
JJJ: Do you have a favorite behind-the-scenes moment?
PJ: I had to get my "wolf nails" done every once per week, sometimes even twice because I would break one or more during the week while filming. I remember sitting in the nail salons for hours as my nails were worked on.
JJJ: What are you most excited for fans to see?
PJ: The songs are amazing and the dancing is fun, but I'm most excited to maintain the message of inclusion. Through this movie musical, it all comes back to: love your neighbor. I hope it will be seen as a metaphor for schools, towns, cities, states, the world at large. Different cultural traditions may seem strange to us when we are first introduced to them, but once we get to know the people, we find they are like us in the most fundamental ways. Most people want what we want: opportunities to learn and work, the freedom to live without fear, and love their family and friends.
JJJ: Zombies 2 isn't your first Disney role, fans may recognize you from Mech-X4. How was it stepping back into a Disney project?
PJ: Yes! Spyder in MECH-X4 was a fun experience as the comic relief in each episode. It was super fun! And before that I was the surprise fourth bionic sibling in Lab Rats. Each time I am in a Disney project, I am blessed to have a positive audition process and ultimately have worked with great writers, directors, crew members, and cast. This time I also worked with singing and dancing coaches on such a high level. It was a fantastic time!
JJJ: Any future projects you can talk about?
PJ: Recently I was lucky enough to be invited to Texas Children's Hospital, NFL Pro Bowl, and Baby Ariel's music video, out last week! (Check it out right here!)
I'm presently working on a passion project. In 2018 I portrayed a teen with epilepsy in a short film called Under the Lights, which people can see later this year. Follow the progress of the film on Instagram @UnderTheLightsFilm.
During my preparation for the movie, I spoke to doctors, advocates and teens with seizure disorders. I was distressed to learn that funding for research is alarmingly low and the stigma still associated with this disorder has resulted in bullying and shunning. Some I communicated with told me they had never had a friend. This troubled me so much that I have partnered with the Epilepsy Foundation and am directing a documentary on the emotional component to having a seizure disorder. I've been to Maryland, Boston, Atlanta, Raleigh-Durham, New Haven, and Philadelphia thus far to interview people. I have a few more cities to visit before I go into post production.
Like Just Jared Jr. on FB