Tue, 17 March 2020 at 7:00 pm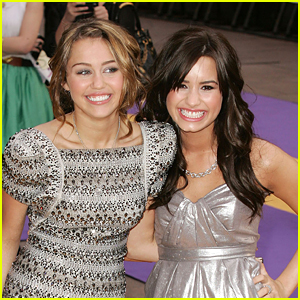 Miley Cyrus got our Disney Channel loving hearts racing Tuesday morning (March 17) when she went live on Instagram with Demi Lovato!
The 27-year-old "Mother's Daughter" singer interviewed her fellow former Disney star on a new series, Bright Minded: Live With Miley.
Miley is inviting new guests daily and interviewing them on Instagram Live while being self quarantined.
During her interview with Demi, the two longtime friends talked about many topics from body dysmorphia to tips for going through a hard time, to even knitting!
Click inside to see some of the highlights from their interview…
On tips for during a hard time – Demi shared that she loves to just talk to friends, and going to church has been helping her. Both said that they have been using the app Headspace for meditation.
On social media – Demi said that it can be a blessing with humor, making people laugh and smile.
On cancel culture – Miley said it needs to stop or slow down.
On social distancing – Both girls said that it is going to help so much, and "we're so good at it."
On body image – "I didn't have anyone in young Hollywood to look up to regarding body and weight," Demi said. She added that since she didn't have that, she feels like she needs to be a role model for others and especially her little sister Madison De La Garza. Miley revealed that she stopped wearing skirts and shorts because she was being compared to a turkey. Demi and Miley both want to be using their platforms for a bigger purpose. "I didn't know you were going through that, I wish I could've been there. If it happens again you better call me, I'll walk to Malibu if I have to," Demi said in response.
On friendships – They said that times like this are good to reconnect with friends, and it's important for them to stick together and being women in the industry together.
On knitting – Demi said she learned to knit in rehab, and she always comes back to it. Even though she forgets how to do it, she just watches a YouTube video to re-learn.
On something that has a special meaning to her – "When I was in the hospital, [my sister] Dallas brought me these galaxy lights and it changed the mood and we just listened to podcasts and laid in bed together. I bought a bunch for my apartment and they calm me down," Demi said.
On confidence and body dysmorphia – "When I did "Confident", I was working out all the time and eating certain things. I'm more confident now, and I weigh more, but I'm more confident now than I was then," Demi said. They both revealed they still struggle with body dysmorphia. "I think it's so important for anybody that has dealt with body image or anything like that, it's so important to not get consumed with self talk, with being confined at home with mirrors everywhere," Demi continued. "Don't pick apart your body and what you did or didn't do that day. Look at the good things that you did," Miley added.
And of course, Miley shared that she is obsessed with Demi's new single "I Love Me" and she's probably listened to it 150k times.
Like Just Jared Jr. on FB