Mon, 15 June 2020 at 2:26 pm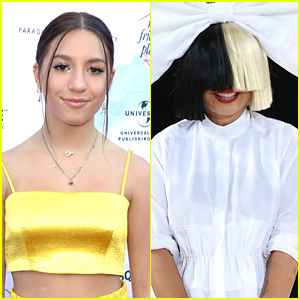 Kenzie Ziegler is opening up about creating a song with Sia!
The 16-year-old entertainer has a close connection with the singer/songwriter as her older sister Maddie is close friends with Sia and a longtime dancer for her.
Kenzie and Sia will soon release a collaboration called "Exhale", and she revealed that Sia is actually one of her biggest inspirations.
"I would one hundred percent say SIA. One of my number ones. Not because I know her, and she's always been an inspiration; but because her music is so different and she's a really good support system," Kenzie told MOOD Magazine. "Other artists that I like are Billie Eilish, I like Madison Beer. I feel like they're kind of my vibes of music. I want a combination of both of them! I could go on and on, but definitely, those three are my top."
"So, I actually got the song sent to me as a demo. It was just going to be me on it. I thought to myself, 'Wow this song is so good.' I was on tour and went to a random recording studio in Boston and I recorded the song with a random person. It was an experience so different and something I've never done. After that, I went back on tour, flew to where the production team was and came back on the bus. So, I never heard back from them; I didn't hear from them at all," Kenzie shared about "Exhale".
"Then I finally got it back and we thought we couldn't get the demo right, so we dropped it. But then we got it back again and I sent it back to Sia and she was like, 'This song is so good!' Then she said, 'I want to be on it,'" she added. "I was surprised and she told me, 'Well if you don't like the song, I'll just take the song from you' [Laughter]. I definitely wanted to sing together with SIA so it worked out pretty well."
"The song is talking about how you need to let everything go and not think about it. To be a boss-lady- it's all about women empowerment. But I feel that the song is very important because you honestly have to breathe, let everything go, and have fun and dance around," Kenzie said. "I love this song because it's giving out a really good message, but you can also bop through it and jam out in the car. It's so fun."
Like Just Jared Jr. on FB