Thu, 18 June 2020 at 5:16 pm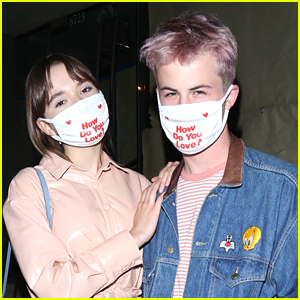 Dylan Minnette and his girlfriend Lydia Night where matching face masks while leaving dinner earlier this week in West Hollywood, Calif.
The cute couple were sure to mask up after their outing at celeb hotspot Catch LA.
Dylan recently opened up about which scene from the final season of 13 Reasons Why gets to him the most when he watches it.
"The college essay scene gets me the most when I watch it, without fail, and I think the reason is because all Clay ever wanted to be, throughout the entire course of the series, was somebody's positive influence, in particularly Hannah's," Dylan told EW. "He's had to deal with the guilt and grief of never being able to be that for her, and it's all he ever wanted. He always has wanted to be a hero and always wanted to save someone and to be the positive influence in their life, and he has failed spectacularly many times."
"He's also succeeded sometimes, but never in the way he wants, and it's sort of been the downfall of him. But in the end, hearing from Justin, the person he loves most, that he was his brother and his positive influence, I think that's why watching it I'm so happy with the decision and it gets me every time. I'm really proud of the ending for that reason because I feel like there's a lot of perfect full-circle moments," he added.
Like Just Jared Jr. on FB